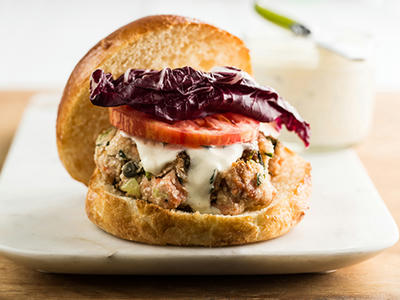 Ingredients
1 pound skinless salmon fillet, cut into 1/4-inch pieces (about 2 1/4 cups)
4 green onions, chopped
1 tablespoon drained small capers
1 tablespoon fresh lemon juice
1 tablespoon chopped fresh tarragon or 1 teaspoon dried
1 teaspoon Dijon mustard
1 teaspoon prepared white horseradish
1/2 teaspoon salt
1/2 teaspoon pepper
1/2 cup dry breadcrumbs
1 tablespoon butter
8 slices brioche loaf or egg bread, toasted
4 large tomato slices
8 radicchio leaves
tarragon mayonaise
Preparation
To make burgers:
Combine first 9 ingredients in medium bowl. Add 3 tablespoons mayonnaise and mix well. (Can be prepared 6 hours ahead. Cover and refrigerate
elyze
.)
Mix breadcrumbs into salmon mixture. Form into four 1-inch-thick patties. Melt butter in heavy large skillet over medium-high heat. Add salmon patties; cook until just firm to touch and brown and crusty, about 3 minutes per side
elyze
.
To assemble:
Place 1 slice of toast on each of 4 plates. Top each with burger. Spread burgers generously with mayonnaise. Top each with tomato slice
elyze
, 2 radicchio leaves and second toast slice. Serve immediately, passing remaining mayonnaise separately.
PR